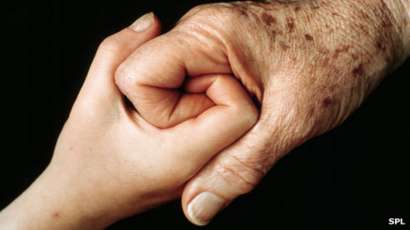 Poquoson Baptist Church is a special place in many ways. It's filled with generous, loving people who are hungry for the Word of God. It's membership consists of saints who are happy to follow leadership grounded in truth. But perhaps what 
makes PBC so special to me is that it's a multi-generational church.
It's not a church for young people or old people. It's a church for all people.
Last week we laid to rest PBC's oldest living saint, a dear woman named Bonnie. Even at 95 years old, Ms. Bonnie was a regular participant in our morning worship gatherings. She attended weekly with her sister at her side, and loved to spent her Sunday afternoons talking with her son about the preaching and the music from the worship service.
Ms. Bonnie didn't know all the songs we sang, and certainly didn't like them all. As delirium began to overtake her on her deathbed, she told me she 
sometimes wished we didn't use so many "ornaments" in our Sunday music. Apparently she was the old school kind, happy with a piano and a hymnal.
Nevertheless, Ms. Bonnie didn't allow her personal preferences to keep her from experiencing the joy of the Lord in her worship. And she didn't allow it to keep her from encouraging the next generation. One Sunday a few months ago she came to me and remarked just how much she loved hearing my 7-year-old son sing loudly in the worship service. That encouraging comment became the source of a deep relationship with Ms. Bonnie until her final days. In fact, I even wonder if God allowed Ms. Bonnie to live one final year (long after she was ready to go to heaven), just so she could have that special relationship with me and my son.
It's wonderful to reflect on these things when eulogizing a departed saint. But how can we continue to cultivate this type of multi-
generational
 environment in our church? 
Is there anything we can do to ensure this culture doesn't die with the departed? Here's a few suggestions:
1. Emphasize Biblical Discipleship
According to Titus 2, effective discipleship in the local church hinges on a multi-generational congregation. The older need to teach the younger. By emphasizing the necessity of biblical discipleship, your church will highlight the beauty and the importance of every saint, regardless of age.
2. Minimize Segregation
Too many churches are far too segregated for anything like Titus 2 disicpleship to take place. The babies are in nursery, the kids are in children's church, the students are in youth group, and on and on it goes. Instead of a highly segregated worship service, churches should strive to maximize the times when everybody is together. Yes, it'll be messy. No, it won't be "cool." But God will use it for your good and His glory.
3. Minimize Style
Often the churches with the least amount of generational diversity are those churches that maximize style. The churches teeming with young people often feature sophisticated lighting, expert stage performers in trendy clothing, adding up to a loud, bold, worship experience reminiscent of Friday night's rock concert. The churches filled with gray-haired saints often feature throwback styles, filled with hymnals, Southern Gospel tunes, pianos, organs, choirs, and funeral home decor. The tragic result of both extremes is that by maximizing a style that appeals to one generation, another generation feels exiled. In the end, both extremes have a membership united by style over substance. 
Although it's far easier said than done, churches should strive to downplay style so that style isn't what unites us.
4. Diversify Leadership
The churches that reach both the young and the old are usually the churches where both the young and the old are given opportunities to serve and lead. Take a look around your congregation. Who's in positions of leadership? Who's on the stage during the music portion of your service? Who's on your elder and deacon boards? Who's on staff? Who's teaching Sunday School classes or leading small groups? If the people filling these positions are primarily either young or old, you shouldn't be surprised if the congregation begins to reflect its leadership. Young churches seeking to reach the elderly should rely on the wisdom of age in positions of leadership. Similarly, older churches seeking to reach the young should equip them to lead.
Christian, there's joy and beauty in an multi-generational church. Is your church a place where 
a 95-year-old lady and a 7-year-old boy can worship the same God with the same song in the same room? Is it a place where a 95-year-old saint can encourage and be encouraged by a 7-year-old boy? 
Sure, we've got work to do. But I'm thankful that, by God's grace, Poquoson Baptist Church is a multi-generational church.
——————————————————————————–
© M. Hopson Boutot, 2018
Image Credit: http://www.bbc.co.uk/news/health-27207219